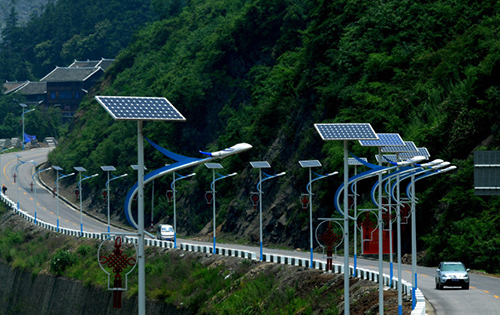 Solar Panel,Led Lighting,Battery integrated/all in one
The Design looks beautiful,Cost down the products size,weight ,and the total package cost ,that will cost down the shipping cost  up to 60% .
Solar Powered ,Cost the power ,no need any wiring power, every year save power up to 200KW/H per street lights,and also saving the wiring cost .
The Solar Panel from 10W-150W, the Led lighting now from 5W-60W are available,enough for the street lighting and garden lighting use.
There is a sensors,body infrared sensors,when there is a people walk,the lighting full ,if there is no people ,the light will down to 50% .
The Battery is Lithium iron phosphate battery,safe and long time life.
All in one designed street lights is easy to install,maintain,and replace ,that will cost and save too much human cost also the products cost.
The main body of the all in one street light is used Alloys material, it is Anticorrosive and anti Rust.
One words to say is that, all in one solar street lights, environment friendly,green energy,power saving,human cost saving,easy to maintain and install,Stable and durable.
You are deserve to try if you are using the normal and old technology Street Lights .
The lamp can sense the brightness of the external environment and lighted-on&lighted-off automatically
PIR sensor working mode can help saving 70% power when nobody around,it worked 30% power only.
100% full power lighting when people coming.
We are Looking for the distributors,if you are interested in,just contact.
Let Support Your Business
LED Street Light
Solar street light
All in one solar street light
Solar Garden Light
Solar Led Motion Sensor Light
Contact Us Now